HAND CRAFTED FURNITURE

Brambley Furniture
Unit 11 and 12 Adams Business Centre
Cranes Farm Road, Basildon, Essex
SS14 3JF Tel 07882 985753
e-mail: Brambleyproducts@aol.com
Cast aluminium outdoor benches & garden furniture from Brambley Furniture
Welcome to The Brambley Collection, a range of beautifully handcrafted cast aluminium garden furniture which recalls the artistry and elegance of a bygone age.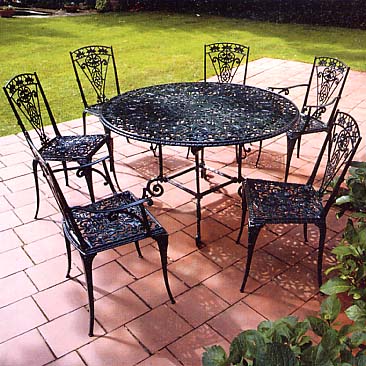 Cast aluminium production methods
Brambley garden furniture is still produced by traditional methods using sand casting and hand-carved wooden patterns. Today, cast aluminium is used rather than iron and each piece of garden furniture is carefully finished in oven-hardened acrylic paint.
Garden Benches & Chairs
These are constructed in corrosion resistant aluminium alloy including the slats which will not rust. The durable matching chairs which are hand crafted reflect traditional Victorian and Edwardian styles.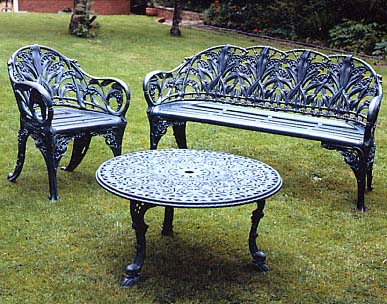 Tables
As with the benches and chairs the tables can be produced in any colour. It is possible to construct the Richmond and Petersham range in a variety of sizes outside of our standard dimensions.
Quality and durability
The Brambley Garden Furniture Collection brings a much envied style to any garden, terrace or conservatory. Its quality and durability will provide a lifetime of lasting pleasure.
Free Brochure
Order your free brochure today or call us to discuss your outdoor furniture requirements at our London premises on 0208 858